Industrial Product Packaging Heat Sealers
Accu-Seal offers the broadest range of heat sealers for packaging static or moisture-sensitive products. Available with vacuum and gas purge capability, our sealers are compatible with a variety of bag materials, including polyethylene (LDPE), polypropylene, HDPE, foil lamination, Mylar, Nylon, and others. We offer equipment capable of providing reliable flexible package sealing for the widest range of seal lengths available in the industry.
Compare the sealers below: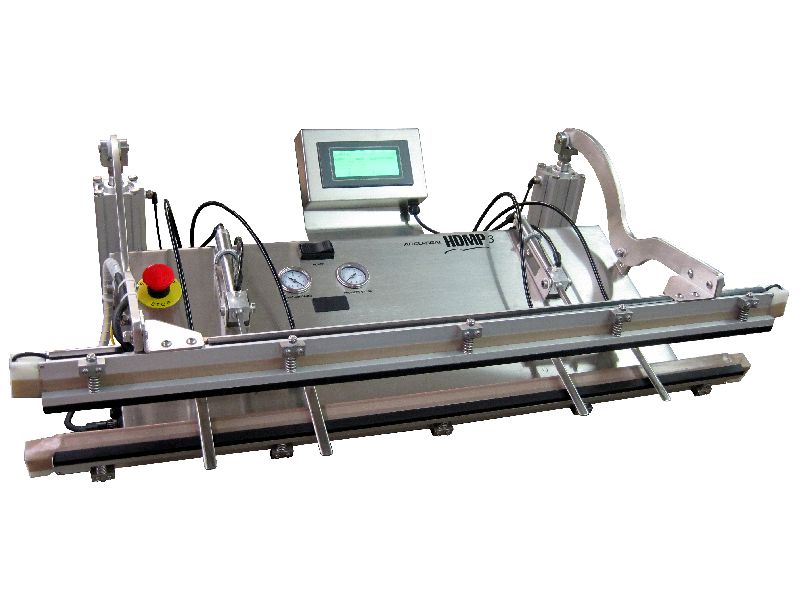 For large Medical and Pharmaceutical product packaging that requires process control, the HDMP3TC seals bags up to 50 inches in length. The HDMP3TC can operate on a horizontal tabletop or can be stand-mounted for orientation in the vertical position. over a conveyor to maximize production. Password protected alarm and seal parameter settings, digital PLC control, with multiple operating modes and recipe programs. Welded stainless steel cases designed to withstand harsh environments and allow for cleaning and resist the effects of biocides. Verifiable & calibratable across all seal parameters for ISO 11607 compliance.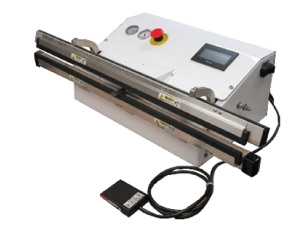 Our newest smartVAC2 integrates a high-resolution HMI digital display and PLC controls, resulting in improved user interface and reliability. The smartVAC2 is built to handle the most challenging industrial production environments, with intuitive user-friendly controls that operators can learn in minutes. Open-ended seal bars and pneumatic vacuum nozzle retraction improve flexibility and production efficiency. Heating provided by a lower seal bar. Standard safety features include low-pressure jaw close and emergency stop switch. The smartVAC2 sealer is designed for tabletop or stand-mounting for ease of relocation and sealer orientation to meet unique production requirements.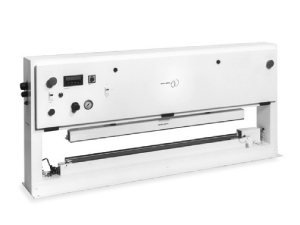 The Model 60 feed-through sealer is an industrial workhorse, custom-crafted from lightweight aluminum and designed for oversized, heavy-duty applications. The welded rectangular frame provides the structural stability necessary to make seals up to 10' long and 1" wide. Films can be fed from the front or the back of the machine and passed between the sealing jaws for uninterrupted flow. This rugged and versatile machine allows for easy two-handed operation, with simple easy-to-read dials and several built-in features to provide optimum operator safety. This unit can also be adapted to an automatic conveyor system.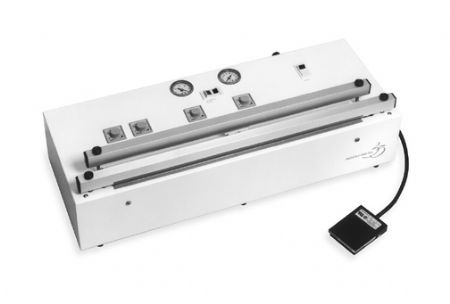 The Model 235 is designed for tabletop vacuum sealing or gas-vacuum sealing electronics in cleanroom environments. Combines cleanroom-friendly venturi vacuum generators, stationary nozzle, and a clean exterior design with independent vacuum and heat seal jaw design to maintain consistent vacuum levels and leak-proof seals over a longer production life.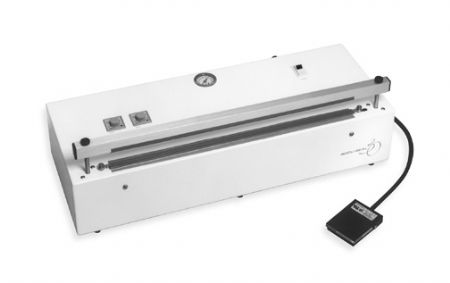 Lightweight pneumatic impulse heat sealer for general-purpose bag sealing for users requiring an economical yet reliable impulse sealer. Powder-coated stainless steel case and high-quality pneumatic components, the Model 30 combines performance with value in a machine that can be adjusted for a wide variety of film bag sealing applications. Equipped with an electric foot switch for single-operator use to easily and safely activate the sealing process. Designed for tabletop operation or can be mounted on an optional ergonomic stand that allows for multi-positional orientation by the user.
Model 35 budget industrial vacuum sealer provides affordable dependability with reliable performance. Timer-based controls offer adjustability for vacuum sealing of a wide variety of materials. Press and hold the electric foot pedal to initiate and control the vacuum time. Release the foot pedal to finish the vacuum and initiate the sealing process. Simplicity and flexibility with the performance you can rely on.
Have Questions?
For general inquiries about Accu-Seal or our products, please feel free to contact us.  You can also contact us regarding specific product needs, technical questions, or spare parts using the links provided in other sections of our website.