Tube Sealer
Accu-Seal Tube Sealers are ideal for small batch runs, research & lab use, or start-up 0perations. Adjustable heat and cool timers ensure repeatable seal performance for a wide range of plastic or plastic lined tubes in medical, cosmetic, or scientific laboratory environments. Operation easy, safe and economical to use.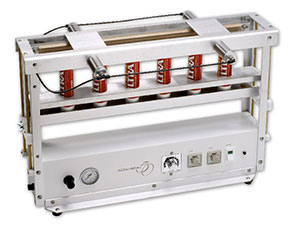 The Accu-Seal pneumatic plastic tube sealer is the economical answer for sealing a wide variety and sizes of plastic or plastic lined tubes, and is ideal for use in home, lab or limited production environments. Fast and reliable, this machine seals one rack of tubes in the time it takes to prepare a second rack.
Have Questions?
For general inquiries about Accu-Seal or our products, please feel free to contact us.  You can also contact us regarding specific product needs, technical questions, or spare parts using the links provided in other sections of our website.